Xiaomi is a multifaceted company in the sense that it plans to extend its reach into multiple areas. We have seen how it is the most established brand in China and the world when it comes to the IoT sector. Let's not talk about smartphones: these have led the giant to overtake Samsung and Apple to the top of the world
. But there's more. Apparently some Mi Stores have started accepting purchases in cryptocurrencies. And more than one. Where? In Portugal. Let's see the details.
UPDATE AT THE END OF THE ARTICLE: COMES THE DENIAL OF THE COMPANY
Xiaomi accepts cryptocurrencies to buy its products. It starts in Portugal with Bitcoin, Ethereum, Theter, Dash and Token Utrust
The announcement comes directly from the official Facebook page
of Xiaomi Portugal, or rather, of the Mi Store Portugal. The news will make quite a bit of noise: the company has started accepting payments via cryptocurrencies and specifically Bitcoin, Ethereum, Theter, Dash and Token Utrust. The first two of these are the most popular and purchased cryptos in the world. Is this a sign that Xiaomi wants to invest in this field as well? At the moment the brand has not conferred word about the world of cryptocurrencies, but it is not excluded that it will not do so later.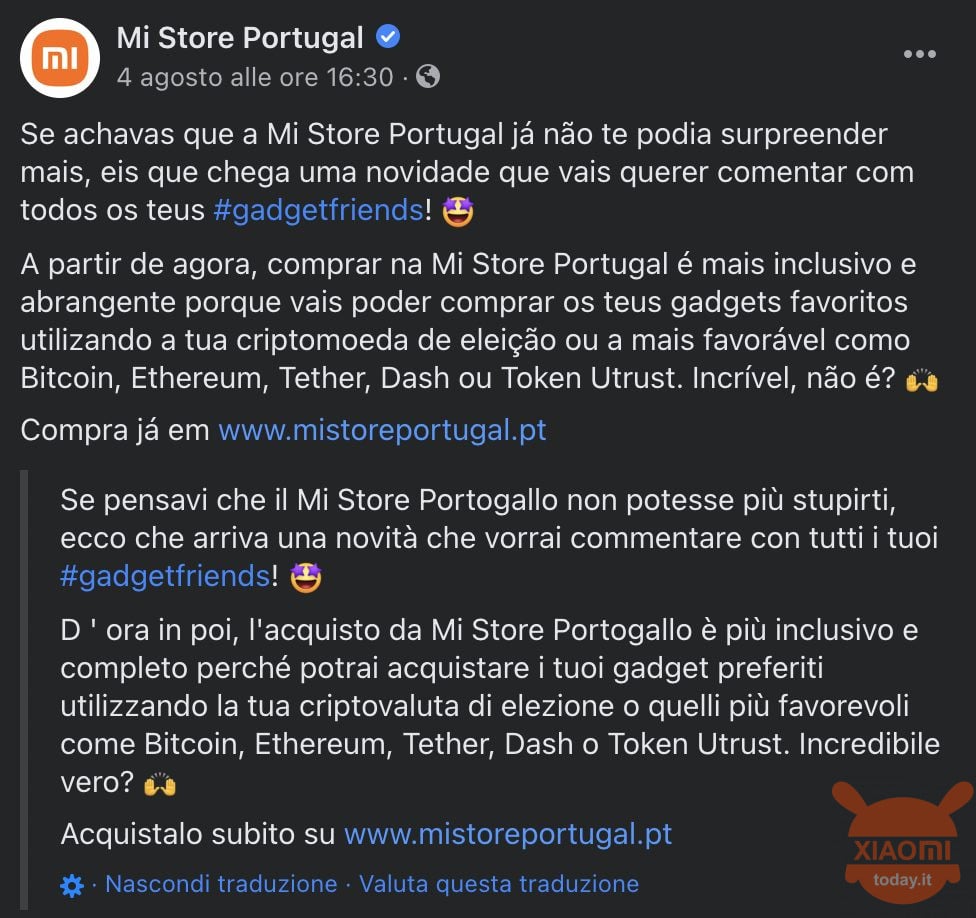 The announcement of Xiaomi Portugal: on the official online store you can pay using crypto
Many companies, see Tesla
of Elon Musk among many, have decided to accept (in the case of this company, to re-accept) payments in Bitcoin. The reason is simple: it is believed that crypto is not just a speculative bubble but a real new method of purchase that will gain stability over the next few years. The fact that Xiaomi is accepting Bitcoin, Ethereum and the like is symptomatic: on the one hand, the value of these coins will continue to rise, and on the other, the hi-tech market will become increasingly interested in this new method of payment. Is
this not the future of shopping?
UPDATE
No time to give the news that comes the official denial of the company. Below is the response via Weibo
.
August
8, 2021
14:14

Amazon.co.uk
Price updated on: August 8, 2021 14:14
Passionate about technology in particular smartphones and PCs. I do my job with passion and respect the work of others.