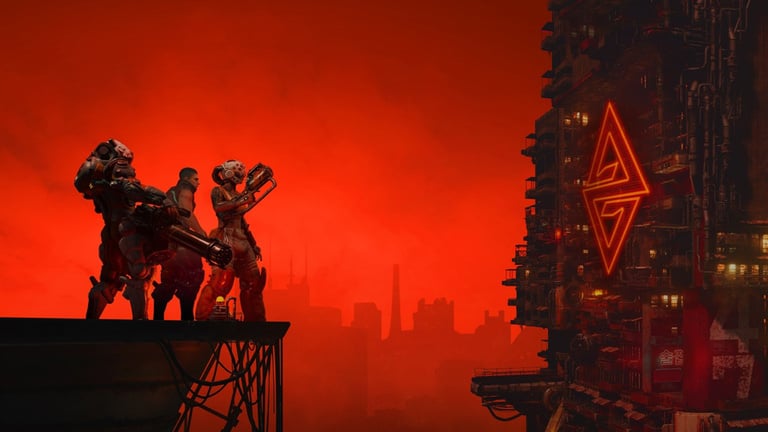 When it was first unveiled during May 2020, The Ascent caught the eye of many. This twin stick shooter was a promise of visual slapstick and obviously frenetic action that had all the makings of a good surprise from nowhere, especially since it was developed by the small team of Neon Giant, composed of 12 people. The only thing left to do was to know if the promises were kept in hand, and that's now done.
Test made from the PC version, on a machine equipped with an AMD Ryzen 7 1700x 3.4GHz processor and an Nvidia GeForce RTX 3080 card.
Typical Cyberpunk
The Ascent places you in the middle of a Cyberpunk world, and adapts its story and narrative accordingly. As is customary in the style, a megacorporation, The Ascent, has a stranglehold on society and at the heart of it are the "perma", modern slaves forced to do the corporations' dirty work. You are one of them, and once you have created and customized your character, you will learn that The Ascent has totally collapsed for an unknown reason. You will have to try to survive in this hostile environment and discover the reasons for the corporation's downfall, and why not regain your freedom.
Without being overwhelming, the main story of The Ascent remains quite solid and pleasant to follow. Although it recites the clichés of any self-respecting cyberpunk universe with a certain academicism, the characters and quests are sufficiently developed to keep the player on the edge of his seat. It's worth mentioning the real work that went into creating a coherent and lively world. The world of The Ascent seems to exist by itself, and it will only take a few minutes to be immersed in the unstoppable atmosphere of the game. Miles of text have been written and are recorded in a codex that you may or may not have to read in order to learn more about the world's issues, and most of the characters you meet are pretty well portrayed and well integrated into the game's dark universe. The same goes for the many side quests you can pick up here and there, since they all have a minimum of context and are sometimes surprising in their structure. In any case, the whole is generous, since the main quest should take you a good fifteen hours, double the amount if you want to do all the side quests. Of course, there is a certain redundancy throughout the adventure, but the game manages to keep the player involved in its universe.
Spectacular battles
But it's not necessarily for its narrative that The Ascent will be remembered. It's the combat mixed with a generous layer of RPG that will occupy most of your time. Neon Giant's title is a top-down twin stick shooter, which of course recites the basics of the genre with discipline. Movement by a stick, orientation ofThe game's rudiments are the aiming of the other, the ability to crouch and raise your weapon to shoot over cover. And on this point alone, The Ascent does very well and offers excellent shooting sensations. With a number of guns (you can equip two of them) that are quite complementary, you can easily inflict maximum damage to the hordes of enemies that will come to assault you. Because of course, as is the basis of the genre, you'll often have to do crowd control to get by, trying not to get caught by enemies coming at your back. Unfortunately, the character has a certain heaviness to his movements and we'd probably have liked a little boost in running speed to allow more control over the action.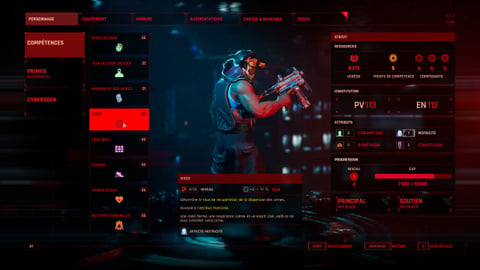 But you won't be satisfied with just shooting everything that moves, you'll also have to optimize your character to deploy a maximum of power. Indeed, in addition to your life gauge, you have an energy gauge that can be used to activate the two cybernetic augmentations you can equip yourself with. These augmentations, which you can get from chests, enemies or merchants, are quite numerous and complementary. Shockwave, drones, turrets, and healing totems are all available to you and your play style. In addition, as you inflict damage on enemies, a tactical gauge fills up and allows you to activate another ability, most often a grenade, which you can trigger to explode. But all these possibilities will only be interesting if you optimize the synergies. As you complete objectives and kill enemies, you'll gain experience and be able to allocate skill points to different attributes. These will allow your character to have more life, more energy, a higher rate of filling the tactical gauge or increased critical damage. Each of these talents is linked to an attribute that can boost some of your corresponding increases. And the RPG aspect is also valid for the equipment, which will offer you protection against different damage. It's up to you to choose which one to equip according to the enemies in front of you.
A visual slap not without flaws
And if there's one thing you have to concede to the game, it's that once your character is well optimized, the rendering is spectacular. The Ascent is indeed a simply sumptuous game. The environments are full of detail and beautifully lit, while the combat is explosively rendered, with smoke, explosion and environmental destruction effects. It is only during the cinematics that you can feel the modesty of Neon Giant's development team. The game is certainly an artistic and technical success, but this beauty has a cost. You'll have to rely on a powerful PC to run the game at maximum resolution with all the graphics sliders.
The game has been played to the fullest. If you only have a modest machine, you'll have to make a lot of concessions, which you can do by playing with the numerous graphic options.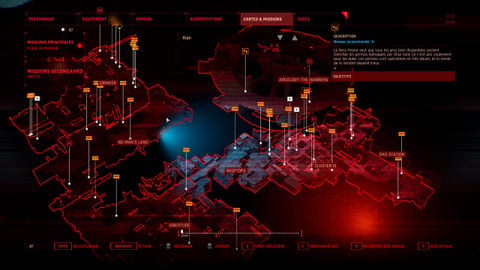 And not everything is rosy in the world of The Ascent either. Navigating the rather large, multi-level map is quite laborious. There is a quick travel system, but the destination points are not always clearly marked. This means that you sometimes find yourself wasting a lot of time going through the entire map again, even though the objective is not on the same level. The game also has some tough difficulty peaks and the checkpoints are not always ideally placed. In addition, some of the French translation is still not available and will only be available in mid-August. This mainly concerns certain dialogue choices that allow you to learn more about a mission or some tutorial sheets. Nothing that will hinder your understanding of the plot, but this point is still regrettable. Finally, loading times can sometimes be quite long and some bugs are still scattered here and there. No need to sulk, though, The Ascent is a success and is all the more impressive since it was developed by a very small team.
Conclusion
Strengths
A superb universe
Very good shooting sensations
An effective RPG layer
Spectacular battles
Can be played entirely in local or online co-op
Very good lifespan (15h+ in a straight line)
Weaknesses
Laborious navigation
Interface not very ergonomic
Checkpoints sometimes badly placed
Performance not always up to par
Movements a bit heavy
French localization incomplete for the moment
The Ascent is a beautiful, fun and fast-paced twin stick shooter, which evolves in a coherent world with a neat lore. If the game's optimization as well as the navigation and interface ergonomics still need to be reviewed and can sometimes be frustrating, the whole game is solid enough in both its shooter and RPG parts to keep you busy for long hours, alone or with friends. It's a great way for the small team at Neon Giant to get back on track, and the game is available on Game Pass as soon as it's released.
14.7
Readers
' Reviews (11
) Readers
' ReviewsGive your opinion on the game!
By [87], jeuxvideo.com
MPTwitter
reporter