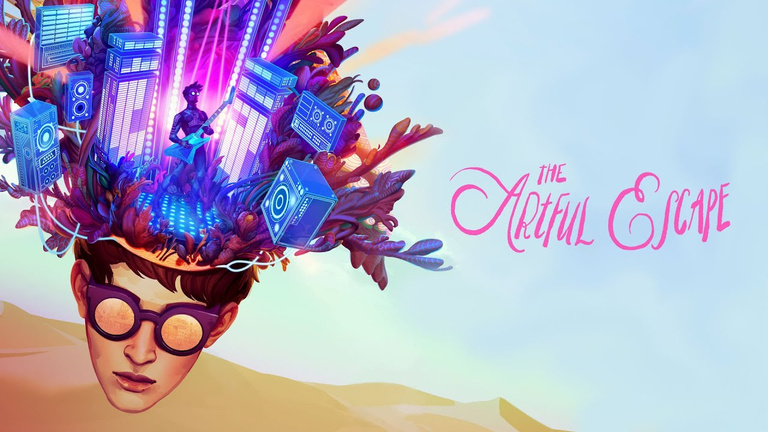 Game News The Artful Escape reveals its psychedelic universe and a release date
Published on 29/07/2021 at 22:08
Initially scheduled for 2020, The Artful Espace has been pushed back to 2021 without giving any news, nor specifying its release date. To put an end to the vagueness around the project, The Artful Espace opened the Annapurna Interactive showcase on July 29th.
It was through a psychedelic trailer, sprinkled with touches of humour, that The Artful Escape was shown in a little more detail. We say "a little more" because the reveal at the Annapurna showcase gave us a vague idea of the game's universe, without giving us any more insight into its gameplay.
From what we know at the moment, The Artful Escape has us playing as Francis Vendetti in a narrative adventure game. Francis Vendetti is the nephew of a famous musician, but unlike his late uncle, he is still waiting for his musical epiphany, the sudden inspiration that will lead him into the spotlight.
Desperately searching for the person he wants to be, Francis embarks on a multidimensional journey with Violetta, an electro musician, in search of the personality he wants to embody on stage. This journey will take him through many strange and bizarre worlds, through which he will play music and meet many people.
Cabrioles, levitation and many other acrobatics, enhanced with amplifiers and visual effects based on lasers, will punctuate the parade of musical landscapes. The music, within these, has a capital importance and will allow Francis to discover who he wishes to become.
The Artful Escape is the work of musician Johnny Galvatron, leader of the Galvatrons, and is a blend of adventure, folk and rock music in unlikely environments.
This project started when Johnny, who has just founded his development studio, supported by Annapurna, met actor and musician Jason Schwartzman in a recording studio.
The latter has a prominent place in the game since he plays a special entity about which we will have more details later. He is not the only actor to join the project since The Artful Escape can count on the participation of Lena Headey (Cersei in Game of Thrones), Michael Johnston, Carl Weathers(Rocky, The Mandalorian) and Mark Strong(Kingsman).
Both an idealized vision of the music world and a true sensory and aural escape, <a href="https://ww
w.jeuxvideo.com/games/game-461313/" target="_blank" rel="nofollow noopener">The Artful Escape is due to be released on Xbox Series X|S, Xbox One and PC
on September 9. It will also be available on Xbox Game Pass at launch.
By Jinxeb, jeuxvideo.com
MP
Editor