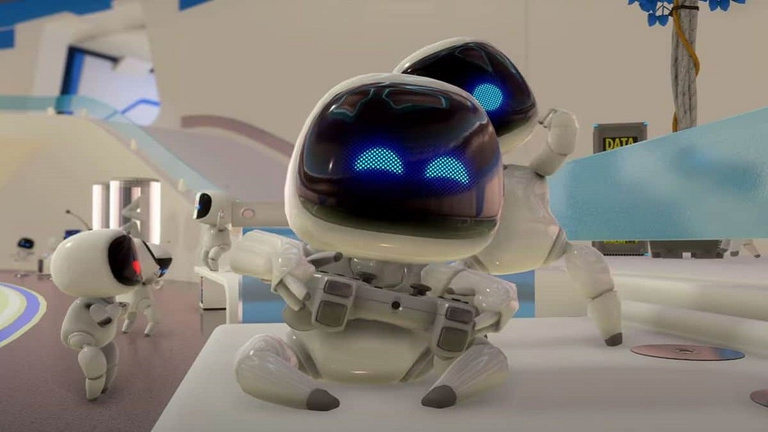 News game Team Asobi (Astro's Playroom) launches recruitment for 3D action game
Published on 07/27/2021 at 10:39 AM
On November 19, 2020, the first PS5s were delivered to European homes. To introduce the machine, Sony included Astro's Playroom, a refreshing 3D action and platforming game using adaptive triggers and DualSense haptic feedback.
Intended as a game to serve as a technical demo, the title actually hid a nice little adventure, which went through the history of the PlayStation brand. Behind this adventure was Team Asobi, initially part of Japan Studio. Since June, Team Asobi has become a real studio under the impulse of Nicolas Doucet, while Japan Studio closed its doors. But if Team Asobi has become a real studio, it is not to remain in a waiting position. Also, the new PlayStation Studios entity is starting to recruit for a 3D action game. In a job offer published by the studio on LinkedIn and spotted by our confreres of Gameblog and concerning a position of game designer in CDD, we can read:
With a focus on level design, your role will be to create a variety of levels for a 3D action game, each offering good tempo and varied creative situations. Your job is also to generate gameplay ideas and oversee their implementation.
The person hired will obviously have to have strong design skills, supervise the work of programmers, but also "bring creativity and humor to the game". Sony also expects the candidate to have a good grasp of action games and have innovative ideas for gameplay. Later in the description, we find again this desire to add humor in the title. We can obviously consider a new game in Astro's universe, especially since one of Astro's Playroom
's trophy suggested that we could have a sequel or a new adventure. But for the moment, nothing has been announced, so we'll have to be patient to know what this young studio is preparing for us.
By MalloDelic, jeuxvideo.com
MP
Editor