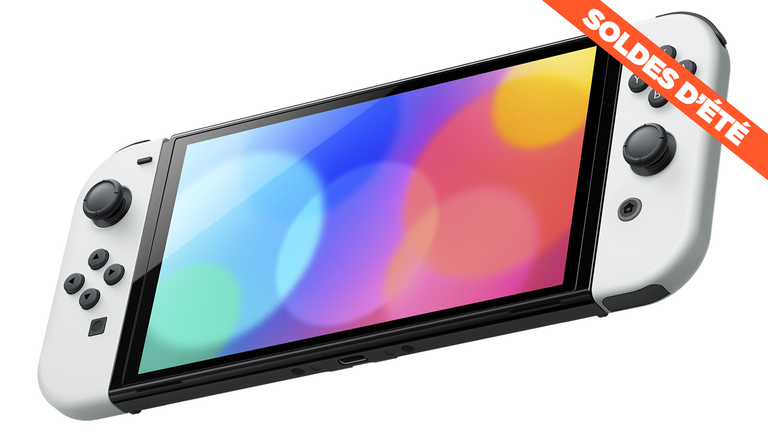 News Switch OLED good plan: promotion on the pre-order of the Nintendo console
Published on 27/07/2021 at 15:45
Cdiscount is currently offering a special Summer promotion on Nintendo's next console, the famous Switch OLED! With a discount bringing the price down to nearly €330, we're on the best pre-order on the entire market right now.
Switch OLED: discount on the pre-order amount
The new version of the Nintendo Switch console is currently available for pre-order. This new Switch joins the very first one that can be considered the Nintendo Switch Classic and the Nintendo Switch Lite, the on-the-go version.
Many rumors have surrounded this new version and many configurations have circulated on the web. We think in particular of this famous 4K version which would have come to dethrone the two consoles of Sony and Microsoft who are racing for performance.
However, the model finally presented does not have the trappings that we so much fantasized about. No 4K, DLSS or Ray Tracing, but a version that brings a valuable but subtle boost to this console that is so popular!
The Nintendo Switch OLED is first of all a bigger screen with the quality of OLED, an enhanced sound quality, a bigger memory and even a new support to be able to use it in all circumstances.
Cdiscount is currently offering the pre-order of the console, but with the code ETEPRO, it is available for just under 335€! The best price on the market today!
Pre-order the Switch OLED for 331€ with the code ETEPRO at Cdiscount
Switch OLED : the Premium version of the Nintendo Switch
This Switch OLED is not really the Nintendo Switch Pro expected. But it still has some good arguments to defend itself against direct competition from Microsoft and Sony.
Thus, in this new console, we find a 7-inch diagonal OLED screen, compared to 6.2 in the classic console, more powerful speakers and most importantly, the dock can now accommodate an ethernet port.
The latter may not look sensational at first glance, but to us it means a lot. Indeed, it means that Nintendo intends to rely more heavily on online. Until now usable with Wi-Fi, this ethernet port boosts internet speed considerably and will make all the difference for online games. From Splatoon 2 to Super Smash Bros. Ultimate, you'll notice quite a difference!
Pre-order the Switch OLED for 331€ with the code ETEPRO at Cdiscount


The best offers from summer sale 2021
This page contains affiliate links to some products that JV has selected for you. Each purchase you make by clicking on one of these links will not cost you more, but the merchant will pay us a commission. Read more about this.