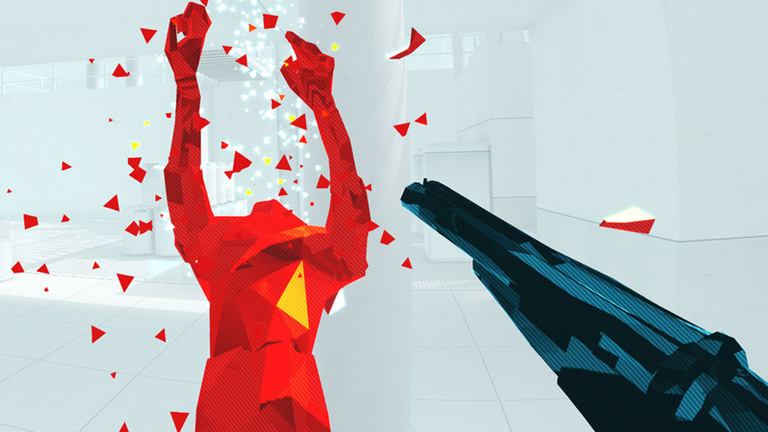 SUPERHOT VR Game News: Game suffers player backlash after suicidal scenes are removed
Published on 07/29/2021 at 15:28
Gamers don't really like it when their favorite titles are touched, especially when they're good and some of the content is cut. SUPERHOT VR is one of them, though, and the community is trying to make its voice heard.
is undoubtedly one of the most impressive virtual reality experiences. Its basic concept was already very successful and the sensations are multiplied tenfold, even disturbing, with a helmet on the head and the adapted controllers. It is precisely this solid immersion that led the developers to remove certain scenes from the adventure, where the player must commit… suicide.
Indeed, SUPERHOT VR requires, at one point, to point the controller at your temple and pull the trigger; similarly, another passage forces the player to jump from the top of a gigantic building. While the ability to skip certain "disturbing scenes" was recently added with an update, the latest update purely and simply removed the suicidal scenes in question. The developers have also issued a statement:
Given the difficult times we live in, we can do better than that. You deserve better. All scenes that hint at self-harm are now completely removed from the game. These scenes have no place in SUPERHOT VR. We regret that it took us so long.
This censorship did not fail to anger the players, who rushed to perform a gigantic "review-bombing", a practice consisting of badly rating a work en masse to express their displeasure. In this case, it's the game's page on Steam that was targeted, with dozens and dozens of very negative reviews attributed. Not sure if this is enough to force the studio's hand…
By Max_Cagnard, jeuxvideo.com journalist
MPTwitter