Streets of Rage 4 Game News: Mr X Nightmare DLC now playable on Switch
Published on 07/27/2021 at 18:38
On July 16, the excellent Streets of Rage 4 received the very good Mr X Nightmare DLC, which added three new characters, new weapons, new moves, music and finally a survival mode to the game
.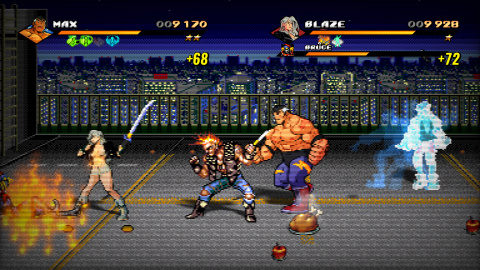 Unfortunately, at the time of release, a technical bug prevented players with a Nintendo Switch from enjoying this Streets of Rage 4: Mr. X Nightmare, sold for €7.99 on all platforms. It took a bit of research and testing, but Dotemu, Lizardcube and Guard Crush Games have found a solution and have just rolled out a patch that makes the content playable. To access it on Nintendo Switch, players must first launch the base game and then locate the content to activate it. Cyrille Imbert, executive director of Dotemu, takes the opportunity to state:
We would like to apologize to our Nintendo Switch players. This issue should never have happened, and we're very sorry for any inconvenience this may have caused. We greatly appreciate the support of each and every one of you, and we assure you that we will be very careful to make sure this never happens again.
Note that in addition to the previously mentioned additions and the arrival of Estel Aguirre, Max Thunder and Shiva, Streets of Rage 4 has been given another update, incorporating a full training system, color choices for character outfits, a new New Mania+ difficulty mode, and numerous balancing tweaks to the game.
Check out our Streets of Rage 4 reviews
Buy Streets of Rage 4 on Amazon
This page contains affiliate links to some of the products that JV has selected for you. Each purchase you make by clicking on one of these links will not cost you any more, but the merchant will pay us a commission. Read more.
By MalloDelic, Journalist jeuxvideo.com
MP