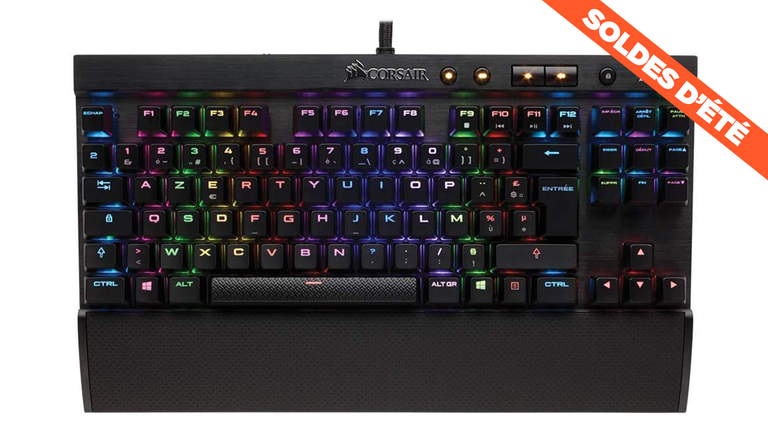 News bargain Sale: the Corsair K65 mechanical gamer keyboard at a discounted price
Published on 26/07/2021 at 18:25
The sales are about to end and promotional offers keep on appearing! This mechanical keyboard from Corsair sees its price drop to almost 100€!
Summer sale 2021 : 47€ off the Corsair K65 mechanical keyboard
After the mouse, the other essential equipment is the keyboard! And in the world of hardware and gaming equipment, a good keyboard often rhymes with a mechanical keyboard. The fundamental difference between this type of keyboard and conventional desktop keyboards is the switches.
The keys in a conventional keyboard are connected to a membrane that makes up the entire keyboard. Press any key, and you make the membrane react. This can present difficulties when you press a lot of keys in the same place.
In the mechanical keyboard, each key has its own switch. So each key has its own signal. And in this case, there is much more precision in the keys. This makes it possible to be faster in typing and thus succeed in going faster than your opponent.
This is what this gamer keyboard from Corsair offers. Mechanical, it will be perfect to slide everywhere with its reduced size. With Cherry MX switches, it's also very fast and responsive, a real asset for gamers who want a keyboard that's competitive.
Features of the Corsair K65 Keyboard
This keyboard is in Tenkeyless format, which means it doesn't have a numeric keypad. Without it, it saves a lot of space on your setup. RGB, with a palm rest, this keyboard knows how to do what it takes to be appreciated.
On top of that, it's equipped with Cherry MX Speed Switches. These are known for their speed and precision in terms of typing! Of course, the usual anti-ghosting technologies are included to ensure that you can continue to type accurately in all circumstances. And this keyboard can be set up with Corsair's iCue software, which allows you to configure profiles.

The best deals of the 2021 summer sale
This page contains affiliate links to some of the products JV has selected for you. Each purchase you make by clicking on one of these links will not cost you more, but the merchant will pay us a commission. Read more about this.