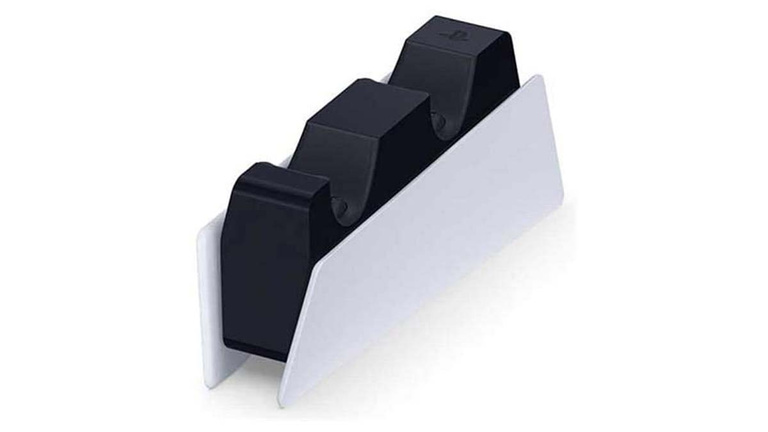 News Good plan PS5 Controller Charging Station available again
Published on 07/08/2021 at 14:20, updated on 07/08/2021 at 14:17
PS5 accessories, such as this official charging station, remain in very limited quantities. Nevertheless, the accessory is available at Boulanger without a price increase.
A welcome restocking
PS5 controller chargers are gradually coming back into stock with normal prices at the vast majority of retailers. Nevertheless, we note that the restocking is still quite spaced. The result is, unsurprisingly, quantities that are decreasing very quickly. For example, on Amazon, the PS5 controller charger, which was in stock at the beginning of the week, is now soon unavailable. For those who want to equip themselves, it's time to invest in distributors where the charging station is available at normal price.
Buy PS5 Controller Charging Station for 29€.
A very practical PS5 accessory
Basically, there's no need for a specific charger for the DualSense, as the controller comes with its own cable that you simply connect to the console or any powered USB port. But it's still nice to have this controller stand that automatically charges your device. Especially since Sony's choice of rechargeable battery and the controller's many functions mean that it needs to be charged almost daily. Also, if there are already many models from third-party manufacturers, it is indeed the Sony one that has our preference for the moment. Aesthetics reminiscent of the console, manufacturing quality, simultaneous charging of two controllers, even with its slightly higher price than the competition, its many advantages clearly make it the model of choice.
Then hit by a shortage, all PS5 accessories were out of stock for weeks. PlayStation's Pulse headset has just come back into stock at a normal price. To enjoy your PS5, these accessories are meant to optimize your experience, but are by no means essential. However, they are still complementary additions that enhance your immersion or simply make your life easier.
<a target="_blank" href="https://track.effiliation.com/servlet/effi.redir?id_compteur=22565153&url=https%3A%2F%2Fwww.boulanger.com%2Fref%2F1152567%3Fxtor%3DSEC-1298-GOO%26xts%3D171153%26origin%3Dpla%26kwd%3D%26utm_medium%3Dliens_sponsorises%26utm_source%3Dgoogle_shopping%26utm_campaign%3Dgaming%26utm_medium%3Dliens_sponsorises%26utm_source%3Dgoogle%26utm_campaign%3DGS-Micro-Console-Gaming-Playstation%26utm_content%3D02-MICRO%26utm_term%3D0205%26%253Fkard%253D1%26gclid%3DCj0KCQjwu7OIBhCsARIsALxCUaOJKTg14s9xRNrMxPkj7Nkg6WPaO9xB4TUW-j0lysxzBITwA0OvXXQaArgaEALw_wcB%26gclsrc%3Daw.ds%26kClkId%3D210806103548667774%26kVsId%3D210720110535624972%26%3Fkard%3D1″ rel="nofollow noopener">Buy PS5 Controller Charging Station for £29
The best PlayStation 5 deals
This page contains affiliate links to some of the products that JV has selected for you. Each purchase you make by clicking on one of these links will not cost you more, but the merchant will pay us a commission. Read more.

By DestyNovaTensai, Journalist jeuxvideo.com
MP