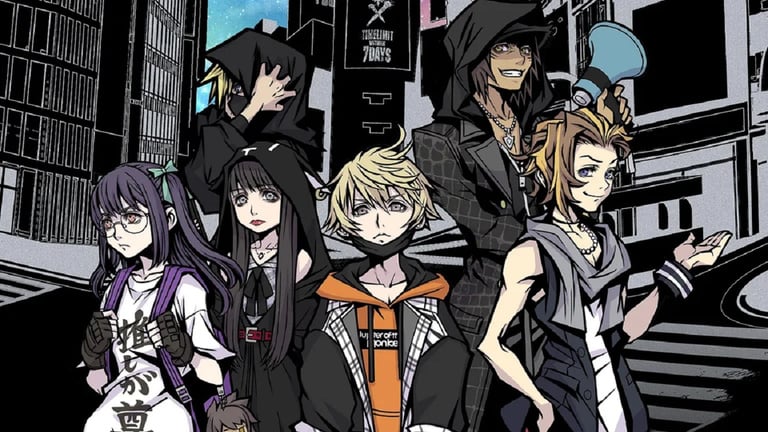 NEO Game News The World Ends With You : Our video test to know everything in five minutes
Published on 07/26/2021 at 17:00
Thirteen years after the release of the original game on DS, the license The World Ends With You returns with a new episode on Switch, PS4 and PC. Set in the heart of Shibuya, Tokyo's trendy district, this sequel still takes the form of an Action-RPG, but this time in 3D. What to make the ride even more enjoyable? Answer in our video test!
In NEO: The World Ends With You
(NEO TWEWY), we follow the adventures of Rindo, an average teenager who hangs out with his friend Fret in the streets of Shibuya, Tokyo's fashion and youth district. As our two heroes collect badges, they find themselves thrown into another world where humans with powers are fighting strange creatures called Echoes. Rindo and Fret realize that they are participating in the Reaper Game, a week-long competition for survival. Each day, they must complete missions to earn points against other teams, in hopes of finishing first and returning to their home dimension.
By placing its action in an urban setting, NEO TWEWY allows us to visit the Shibuya district in depth. There are also several everyday shops to make the player feel the unique charm of this real city within the city. Fashion plays an important role in the game, as it is reflected in the look of the characters, who have been carefully designed by Tetsuya Nomura, Square Enix's star character designer. The characters are particularly endearing, which makes the plot rather interesting to follow, especially thanks to its many twists and turns. We can however criticize that the dialogues are sometimes too numerous.
As for the concrete course of the adventure, it alternates between exploration and combat phases. During the former, we often use the extra-sensory powers of our characters (recall a memory to someone, engrave an idea in his mind …) to unlock certain situations. As for the fights, they take advantage of a simple gameplay for a dynamic action that puts a lot in the eyes. Unfortunately, the confrontations can sometimes be messy and become repetitive at a certain point. Not to spoil the ride, which also benefits from a pleasant and varied soundtrack that makes you feel the urban atmosphere of the title.
Read our full review of NEO: The World Ends With You

By TheXsable, Journalist jeuxvideo.com
MP