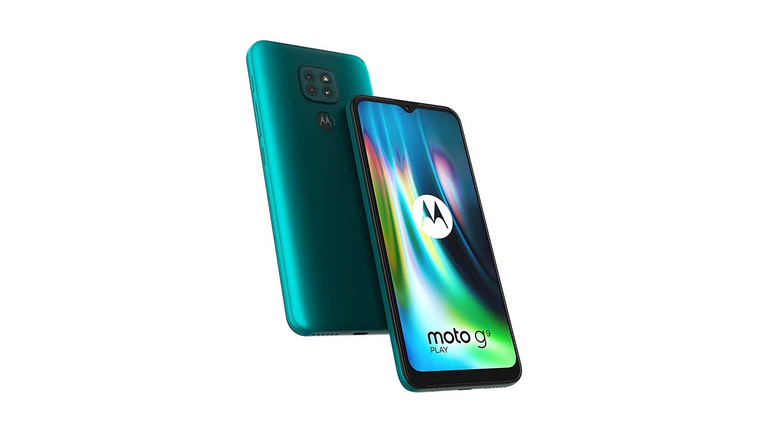 News coupon Motorola G9 Play : A mid-range Lenovo smartphone at a special price of 109€.
Published on 26/07/2021 at 16:38
The Moto G9 Play smartphone is at the exceptional price of 109€ with the code FLASHSALE on the official website LENOVO. A golden opportunity to get a mid-range phone at a discounted price.
To compete with low-cost smartphones, which are mainly dominated by Chinese brands, Lenovo has launched its model for less than 200€. For this price, the phone comes with a nice set of features. Quality photos, large screen and fluidity, a nice promotion is displayed on the official website of the brand on this smartphone Moto G9 Play by 42%, making it to 109 €. An extremely competitive price, given its technical record.
Buy Motorola G9 Play at the price of 109€ with code FLASHSALE
The Motorola G9 Play is the first mobile phone to be released on the market today, and it's a great way to take advantage of this trend. If obviously the relationship between entry-level and high-end smartphones is not to be made as the differences are numerous, the ranges under 200€ have nothing to be ashamed of and remain a very interesting investment for people looking for a mobile for a simple use and capable of running the mobile games of the moment. Today, thanks to the cloud, almost all recent mobiles can let you enjoy the Xbox game library. You don't need to have a powerful smartphone. Just install the software and enjoy the latest blockbuster games on the cloud.
A convincing spec sheet
Unlike other models, the edges are thicker (4mm), but this small defect is made up for by the quality of its screen and its responsiveness.
Indeed, in a smartphone of this category, the main concern lies in the fluidity. Indeed, the applications must be launched in a fluid way, without hitch or cut and without overheating! Lenovo has done a pretty good job of thinking this through by giving the Moto G9 Play a solid spec sheet. It has a 6.5 "HD+ 20:9 (720×1,600) display with 64GB of storage. Its processor is a Qualcomm Snapdragon 662 clocked at 2.00GHz. On the connectivity side, it offers a 3.5mm jack, a USB type C port, a Bluetooth 5.0 + 802.11 a/b/g/n/ac connection. Its rear photo sensor registers 48 MP and 16MP in front sensor. Perfect for selfies and photo/video capture, the Moto G9 Play is a perfect companion for the road. With its Android 10.0 operating system, the phone ensures a smooth running experience. Finally, the last major highlight of this phone is its long lasting battery life of 2 days with its 5000 mph battery.
Buy Motorola G9 Play at the price of 109€ with code FLASHSALE
The best offers of the summer sales 2021
This page co
has affiliate links to some products that JV has selected for you. Each purchase you make by clicking on one of these links will not cost you more, but the merchant will pay us a commission. Read more.

By DestyNovaTensai, Journalist jeuxvideo.com
MP