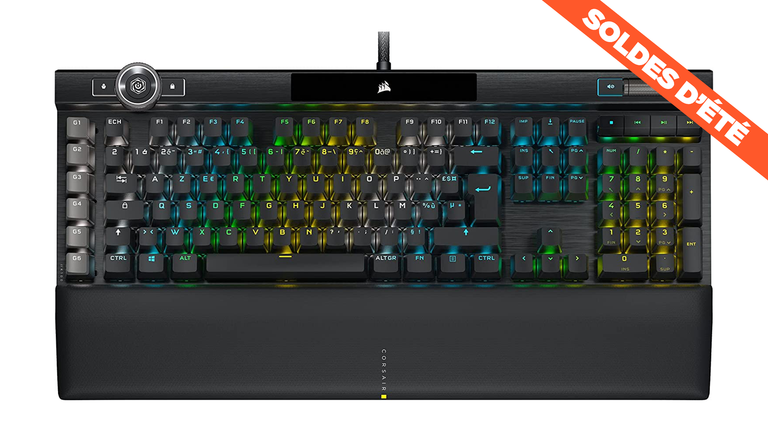 News good plan Last hours of the sales: the Corsair K100 keyboard at a low price!
Published on 07/27/2021 at 16:52
The sales are almost over! But it is still time to make deals! Like with this Corsair K100 keyboard, a reference in the gaming world when it comes to mechanical keyboards!
Often, we talk about reference in the field. And these are regularly products that can be accessible. Then there are the references that we think are inaccessible, and whose price turns heads.
And then, sometimes, rarely, the prices are finally accessible. And today, it's the turn of Corsair's K100 mechanical keyboard to see its price drop to under 200€! A first!
This keyboard is one of the most complete on the market! Between its macro keys, its configuration, the RGB or the comfort brought by the wrist rest, we are facing a mechanical keyboard of great quality, great comfort and great efficiency. In short, it's a great investment for the long term.
It must be said that with its Cherry MX Speed switches, which are both fast and precise, this keyboard wants to adorn itself with all the superlatives in order to appear as the best and most complete keyboard on the market.
With its sturdy aluminium chassis, it is built to last and will withstand all the assaults, attacks, runs, invasions, shots and hits of all kinds in all your competitions.
Buy the Corsair K100 keyboard for 199€ at Amazon
The opinion of oliveroidubocal18/20There
is nothing to reproach to this keyboard which, beyond the luxury object it represents with its prohibitive price, shines at all levels. Typing comfort, finish, functions and management, without being surprising the K100 RGB manages to be exceptional everywhere, with fast and responsive opto-mechanical keys. If you have that kind of budget for a gamer keyboard, you should really appreciate it. But is that really reasonable?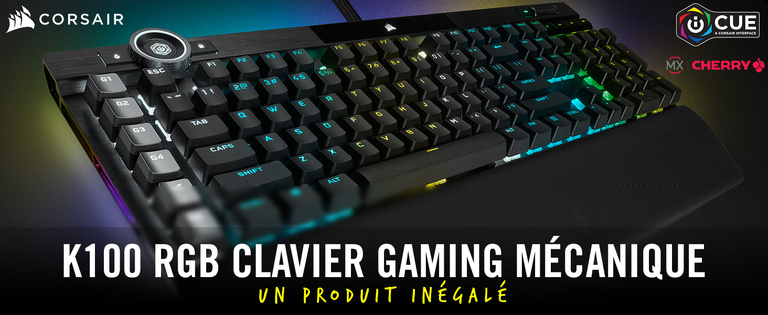 The Corsair K100's featuresThis
mechanical keyboard relies on Cherry MX Speed Switches with a 1.2mm actuation distance, and a 45g keystroke feedback. And thanks to the combination of the design and the palm rest, this is a high-end keyboard that thinks long term and offers a pleasant and precise typing experience.
In addition to this, you can count on special media keys, shortcuts, macros or even dedicated keys for gaming that are rougher with ABS. You can also count on special FPS/MOBA keys for a more tailored experience in this area.
Of course, you can configure all the settings of this famous keyboard via the iCue software from Corsair.
For more information on this
keyboard, you can refer to the full test about it.
Buy the Corsair K100 keyboard for £199 at Amazon

The best offers of the 2021 summer sales
This page contains affiliate links to some of the products that JV has selected for you. Each purchase you make by clicking on one of these links will not cost you more, but the merchant will pay us a commission. Read more about this.