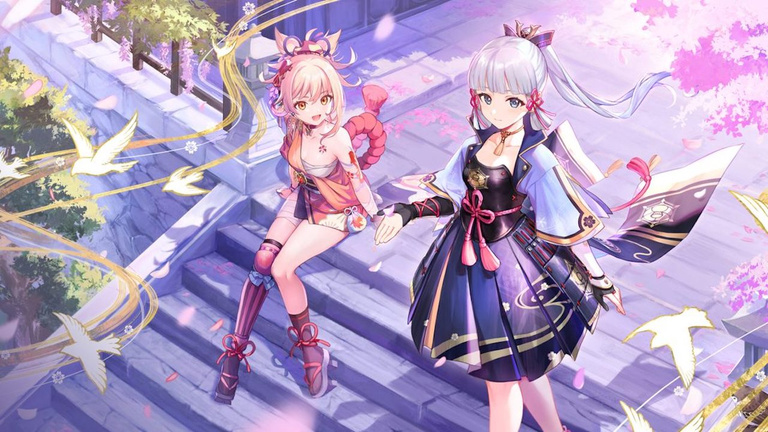 Genshin Impact game news: a new activity about to be ironed out by MiHoYo in version 2.1?
Published on 07/26/2021 at 17:47
The growth of Genshin Impact has not stopped for some time and the arrival of version 2.0 has signed the passage of a new symbolic milestone, and magnitude, for the game of MiHoYo. The studio, which is always looking to the future, is working on new activities to be implemented in the next versions of its successful game.
Last week, MiHoYo took everyone by surprise by announcing a surprise crossover with the character of Aloy, from the games Horizon: Zero Dawn and Horizon: Forbidden West. She should arrive in the world of Teyvat at the same time as version 2.1 for PlayStation 4 and 5
players, and in version 2.2 for the others.
Proof that the Korean studio has more than one trick up its sleeve, new features should be included in the next Genshin Impact
updates, and a new activity could well see the light of day in the next one.
For the past few updates, the developers have been trying to break up the monotony of combat by offering various leisure activities. Like version 1.5, which introduced a housing system, or version 1.6, which allowed you to turn your home into a farm.
And what better summer activity than fishing? As Anonsbelle reports on Twitter, MiHoYo's 2.1 update may introduce a fishing system.
Brief details about 2.1 update:
1). New area (Watatsumi Island);
2). Hydro Hypostasis that can summon "specters": Geo, Hydro and Anemo;
3). Fishing (and new fishes, of course).
–
アノニマス れいじん (@anonsbelle) July 23, 2021
For the occasion, the number of fish would also
be increased.
Note that a new area, Watatsumi Island, should be deployed as part of this update: with a fishing spot as a bonus?
For the moment, nothing has been officially confirmed, which implies that these elements, collected by dataminers, should be taken with caution, especially since these features may be delayed to a later update.
Genshin Impact, guides and tips
<img src="https://image.jeuxvideo.com/avatar-sm/j/i/jinxeb-1622651557-53b02d4256fa4cc89656c539cc531afe.jpg" alt="Profile of Jinxeb, Jeuxvideo.com" /> By Jinxeb, jeuxvideo.com
MP
Editor