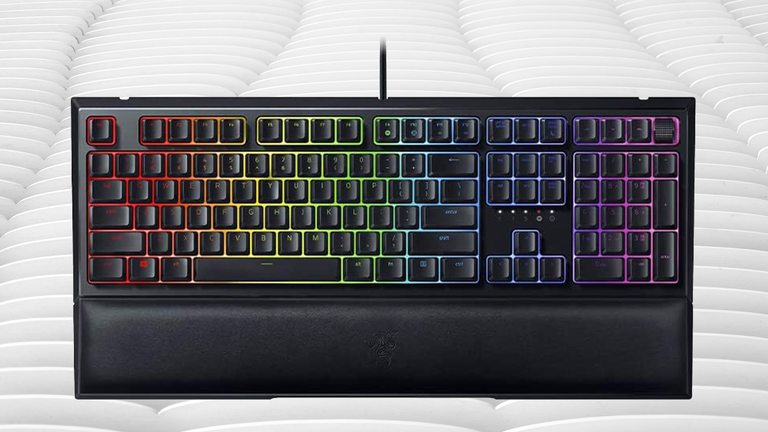 News coupon -18% off on Razer Ornata V2 Gamer Keyboard
Published on 07/08/2021 at 19:00, updated on 07/08/2021 at 18:56
The Ornata V2 keyboard, one of the most popular among gamers, is currently on sale at Amazon. Available for less than 90€, it's a great deal for those who want to invest in a serious keyboard.
Razer is well known in the gaming industry for the quality of its equipment. Reliability, performance and precision are the watchwords at Razer, and this Ornata V2 keyboard has benefited from this right down to the last plastic fibre.
Buy the Ornata V2 keyboard for 89€ at Amazon
Indeed, we are in front of a real success signed by Razer, which produces a keyboard that will meet the requirements of the most demanding gamers in gaming.
With the innovative mega-membrane system, Razer manages to link two worlds that everything opposes: mechanical keyboards and membrane keyboards.
As a reminder: membrane keyboards are the most common type of keyboard, especially for office use. Underneath the keys is a plastic membrane that receives the input from the keys and transmits the information. Efficient in normal circumstances, this system has its limits in the context of gaming.
Indeed, when many inputs are entered at the same time, one can quickly face errors. This is where the mechanical keyboard comes in with a formidable solution: put a switch under each key to individualize the input of the keys. This way, even if you have to press a lot of keys at the same time, a mechanical keyboard will be able to process the signal correctly and transcribe your typing accurately.

Features of the Razer Ornata V2 keyboard
This keyboard developed by Razer is equipped with mecha-membrane switches. It has a rubber membrane as well as mechanical keys. You will have the pleasant sensation of touch while having the speed of typing.
On top of that, you'll also find the best in anti-ghosting technology. This means you can press 10 keys at once and still have the signal processed. And with the 1000Hz Ultrapolling function, you get a response time of 1ms, the speed made keyboard in short.
You can also count on the leatherette wrist rest to provide a non-negligible plus in terms of comfort.
And of course, this keyboard is RGB and you will be able to set this, as well as all the features of this device (including Macro and keys) with the Razer Synapse software.
Buy the Ornata V2 keyboard for £89 at Amazon</a>

The best gaming accessories offers
This page contains affiliate links to some of the products that JV has selected for you. Each purchase you make by clicking on one of these links will not cost you any more, but the merchant will pay us a commission. Read more about this.